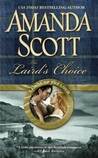 The Laird's Choice
by
Amanda Scott
My rating:
4 of 5 stars
This is one of many examples where having won a Goodreads book I've looked for others in the author's series to read and review. This is the first in The Lairds of the Loch trilogy which I read after having won the second and third installments. They are all stand alone books revolving around the three MacFarlan girls during the time of Jamie Stewart's return from English captivity to resume the rule of Scotland.
I am particularly fond of this series for several reasons--the characters are so well drawn and realistic that you are honestly interested in their lives and relationships. Secondly, there is a great deal of actual Scottish history shared in an entertaining way. And third, the description of the scenery of this wild, rocky, highland is breath-taking.
This is the first story--the escape of a young galley prisoner from rebel clan's fleet. Magnus Galbraith washes up on the shore of MacFarlan land and is found by the eldest daughter, Lady Andrena. Having lost all of his sons, Laird MacFarlan convinces Mag to marry Dree and to assume the MacFarlan name. James Stewart is once more on Scottish soil and is in the process of gathering loyal followers together to unify Scotland under a uniform code of law. This is their story and it is page turning.
View all my reviews